Welcome to Comex Systems, Inc.
Comex Systems, Inc. is a leader in standardized test preparation. Major topics covered include ASVAB, CLEP, Study Skills and Basic Skills. The newest delivery method is HD streaming off the web.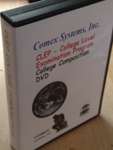 The main focus of our DVDs is subject matter review. Whether you are using a set of DVDs for a standardized test or studying a disc from our basic skills series, the DVDs will cover the content you need to know for that particular topic.
Streaming Videos
This is a sample from the CLEP Humanities lesson 5.
This lesson is on art.
Our popular CLEP review series are now available to be streamed off the web. These are the same lessons found on our DVDs. Institutions receive their own unique login and password that they can distribute to their patrons. Patrons can then stream HD video to their phones, tablets and laptops. A student can study anywhere he or she has internet access. Multiple users can access the site simultaneously.
Comex Systems, Inc.
9380 Nastrand Circle
Port Charlotte, FL 33981
908-881-6301
mail@comexsystems.com