ASVAB
Comex Systems, Inc. has over 25 years of experience helping people excel on the ASVAB. Our content driven approach familarizes the student with the material on all the different subtests.
The ASVAB DVD series contains 8 lessons. There is one lesson on each of the different subtests.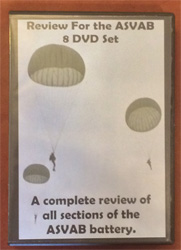 Lesson 1 General Science
Lesson 2 Arithmetic Reasoning
Lesson 3 Word Knowledge
Lesson 4 Paragraph Comprehension
Lesson 5 Auto and Shop Information
Lesson 6 Mathematics Knowledge
Lesson 7 Mechanical Comprehension
Lesson 8 Electronics Information
ISBN 1-56030-191-0 $400.00
Federal Government - Order from GSAAdvantage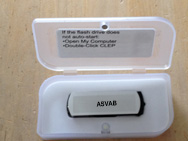 The flashdrive version of the ASVAB series contains all the video content from the 8 DVD lessons. It also has a PDF version of the study guide and an interactive sample test. Everything you need to do well on the test in one convenient, easy to use package.
ISBN 1-56030-314-x $400.00
Federal Government - Order from GSAAdvantage
Study Guide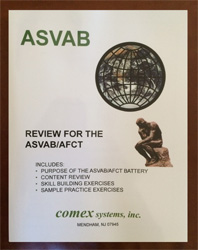 The ASVAB study guide is 263 pages in length. It has a subject matter review of the 8 subtests. There is a full length practice battery with answers and explanations.
ISBN 1-56030-251-8 $22.95
Federal Government - Order from GSAAdvantage
iPod format videos
The iPod format videos are preloaded on an iPod touch. The video content is the same content from the DVD series. There is one video lesson for each of the DVD topics. The iPod format allows the student to study anytime and anywhere.
ISBN 1-56030-243-7 $745.00
Federal Government order from GSAAdvantage
CDROM
The CDROMs contain the lessons from the DVDs in a compressed format. This allows them to play on older computers that are not equipped with a DVD drive.
ISBN 1-56030-211-9 $400.00