CLEP College Composition
DVD
The CLEP College Composition DVD series contains 5 lessons.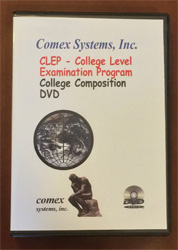 Lesson 1 Examination Overview
Lesson 2 Standards of Written English & Revision Skills
Lesson 3 Evaluating Source Material, Using and Citing Sources
& Rhetorical Analysis
Lesson 4 Practice Test
Lesson 5 The Essay
ISBN ISBN 1-56030-262-3 $750.00
Federal Government - Order from GSAAdvantage
Video on Demand
The lessons on the DVDs may be purchased for viewing on demand at the following
link.
Flash Drive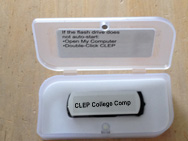 The flashdrive version of the CLEP College Composition series contains all the video content from the 5 DVD lessons. It has a PDF version of the study guide and it has an interactive sample test. Everything you need to do well on the test in one convenient easy to use package.
ISBN 1-56030-300-x $750.00
Federal Government - Order from GSAAdvantage
Study Guide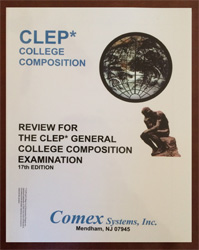 The CLEP College Composition study guide is 183 pages in length. It has a subject matter review of the major topics, diction, agreement documenting research, etc. There is a full length practice test with answers and explanations.
ISBN 1-56030-260-7 $20.95
Order Now From Amazon
Federal Government - Order from GSAAdvantage
iPod format videos
The iPod format videos are preloaded on an iPod touch. The video content is the same content from the DVD series. There is one video lesson for each of the DVD topics. The iPod format allows the student to study anytime and anywhere.
ISBN 1-56030-230-5 $1000
Federal Government - Order from GSAAdvantage