GED
These materials are designed for the 2002 version of the test.
DVD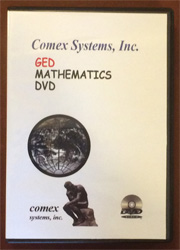 Lesson 1 Fractions
Lesson 2 Decimals
Lesson 3 Number Relationships • Applying Formulas • Graphs
Lesson 4 Algebra • Functions and Their Graphs
Lesson 5 Geometry
Lesson 6 Science
Lesson 7 Social Studies
Lesson 8 Reading
Lesson 9 Mechanics • Punctuation
Lesson 10 Agreement • Diction
Lesson 11 Writing the Essay
ISBN 1-56030-196-1

Study Guides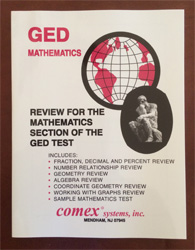 There is one study guide on each of the major sections of the test, Mathematics, Reading, Writing, Social Science, and Science.
Mathematics ISBN 1-56030-143-0 $16.95
iPod format videos
The iPod format videos are preloaded on an iPod touch. The video content is the same content from the DVD series. There is one video lesson for each of the DVD topics. The iPod format allows the student to study anytime and anywhere.
ISBN ISBN 1-56030-247-x $1745